In June 2011, I was visiting some good friends of mine in Portugal. It was my first visit over there and I had a great time in the beautiful city of Lisbon but also in Porto, Viana do Castelo and especially in my friend's hometown, Grândola.
We were staying in the old renovated cork farm Herdade das Barradas da Serra located a little outside of Grândola. It was definitely one of the most, if not the most beautiful place I ever stayed in vacation. Also, Elsa, Luís an Francisco Dias are the best hosts you could wish for, greetings and a big "thanks!" for making this possible!
I took the chance and made some panoramas in and around the facilities. We had perfect sunny weather all week long so it wasn't really hard for me to catch a good moment. It was my first long virtual tour, featuring original sound recorded on-site and other additional images and information. I learned a lot, mostly about recording the sound of crickets and sheeps and making pictures in the Portuguese midday sun at 40°C ;-). The tour now contains 10 panoramas connected via 30 hotspots and for the first time, an integrated google map that shows the visitor his or her current position. Also in the tour is a new set of buttons I created for the SaladoPlayer and that will maybe be included in a future release of the software.
For more information about the farm, visit: www.barradasdaserra.pt or www.facebook.com/barradasdaserra
Visit the virtual tour (opens in new window):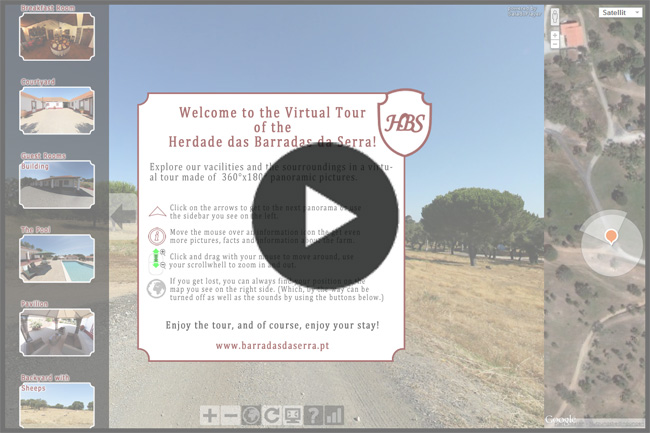 View all panoramas as flat projected pictures: